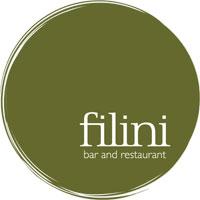 THE FAST & THE FABULOUS
Friday, 23 November 2018
Event Info

Filini Garden Yas Island marks its 1 year anniversary as the popular dining & nightlife venue was officially launched during the F1 weekend last year.

With that said, Filini Garden is pulling all the stops to give a fabulous race weekend to its patrons and guests from all over the world!

The bar & restaurant will be open from lunch time until three in the morning throughout the F1® weekend, serving superb Italian cuisine, stylish beverages, and fantastic live entertainment.

The Garden Brunch

If you fancy a dreamy afternoon that reminds you of long summer days in Italy, head over to The Garden Brunch on Friday, 23rd November from 12:30pm to 4pm for delicious food, cool tunes & live saxophone entertainment.

A colorful selection of antipasti is served on the table followed by a variety of pasta dishes, risotto and pizzas to share. 4 different main courses with portions adjusted to the table size are served after. If this is not enough, there are buffet stations for you to indulge in throughout the brunch. The Antipasti station includes (gasp!) burrata & various other Italian cheeses, salads and cured meats; whilst the dessert station features an array of delightful Italian sweets including gelato.

A brunch is not complete without an after party of course. Fresco Fridays after brunch package includes unlimited house beverages from 4pm to 8pm so guests can enjoy breathtaking views of the sunset whilst dancing to house music tunes by the resident DJ.

*The Garden Brunch:

• Friday, the 23rd and 24th of November

• 12:30 to 4:00 pm

• Brunch prices:

¬ Soft Package – AED 200

¬ Alcohol Package – AED 365

¬ Premium Package – AED 500

• Fresco Fridays after party price – AED 150 inclusive of unlimited house beverages

F1 WEEKEND OPENING HOURS:

F1® weekend timings – 22nd to 25th November from 12pm to 3am

*For reservations, please call 026562000 or email

[email protected]

*All prices above are in UAE Dirham & are inclusive of all applicable service charges, local fees, and taxes. 
Venue Details

A relaxed yet sophisticated open-air Italian restaurant and lounge, providing guests with stunning, uninterrupted views over the golfing greens and out to the creek. Experience sensational Italian dining & nightlife experience at Filini Garden.